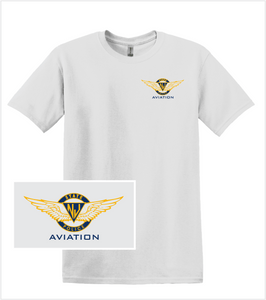 Ice Gray T-Shirt with Printed AVIATION Logo in Gold
Regular price
$17.99
$0.00
Unit price
per
A reliable core weight T-shirt that is great for comfort, softness and durability.
---
Share this Product
Aviation T
Glad something finally came out for our former Helicopter Patrol Bureau. Love the shirts and would love to see more items as Sal advised.
Thanks, 20 yr NJSP Aviation #3439
"T"
The Aviation "T" is great
Would love to see other Aviation Items
Hat, and Jacket would be wonderful..
Thank You... Sal.... NJSP 1st Aviation, #1876
Awesome Aviation Gear
TB&G has another hit with their Aviation Tee, suggestion, in future shirts may be an image of the helicopter with Aviation Bureau printed on the bottom of the image, Also the TEAMS and MARINE shirts are Outstanding !! TM
Ice Gray T-Shirt with Printed AVIATION Logo in Gold
Ice Gray T-Shirt with Printed AVIATION Logo in Gold
---